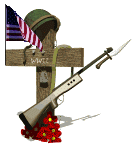 Post Memorial Day Services
May 27, 2003
Please Note: Click on picture to view larger version. To return to this page,
click on your browsers back button.
Special thanks to Legionnaire Ed O'Donnell, PC III
for taking the above pictures!

The Beautiful Wreath was hand made by, Eileen Hickey.
She is our Unit's Gold Star Mother
(see picture below, 3rd row from bottom,
right side, in the front)

Eileen has been the Unit's Poppy chairman for many years, and has contributed to all the Unit's programs.

Her son's name is engraved on the Viet Nam Wall!