Peter Governale Memorial Scholarship
Floyd Bennett American Legion, Post 1060, and Auxiliary Unit, will co-sponsor a $500 scholarship to a member of the Post or Unit, or a member of their family.
Its primary purpose, is to aid those who are in need of financial assistance to further their education.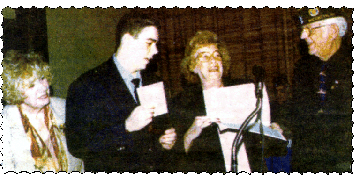 L to R, Ann Viverito, Unit Pres., Anthony Viverito, Scholarship winner,
Kay Guerriero, Chairman, Leon Case, Post Commander
The winner of the Peter Governale Memorial Scholarship sponsored by Floyd Bennett Post and Unit 1060, is a young man, who at the age of 14, became a Jr. Volunteer Fireman, and Jr Volunteer Fire Medic for the Inwood Fire Department, located in the Five Towns, and also for the Long Beach Fire Department, located in Long Beach, NY.
As a dedicated Volunteer, he worked his way up to become Captain of the Juniors.
His Resume consists of the following Certifications:
| | |
| --- | --- |
| | August 13, 2000 - Scuba Diving (Open Water Diver) |
| | June 9, 2001 - Lifeguard Systems- Small Boat and PWC Surface Rescue - Atlantic Beach Rescue. |
| | February 4, 2001 - Nassau County Chapter of the American Red Cross, Adult, Infant and Child CPR. |
| | September 12,13 - Volunteered at Ground Zero |
| | February 7, 2002 - Incident Command - Nassau County Fire Service Academy |
| | February 7, 2002 - Field Service Incident Command - Nassau County Fire Service Academy |
| | He completed a course in "Training for the New Century" at the Nassau Coliseum in LIRR New Diesel Fleet/ LI- Bus and Key Span Energy Alternate Fuel Vehicles in partnership with Nassau & Suffolk Fire Academies. |
He will become a Full Fledged Certified Volunteer Fireman on his 18th Birthday, (July, 23, 2002) and will be on call as a Volunteer Fireman while he attends John Jay College for Criminal Justice, in Manhattan, NY. He will major in, Fire Science
Important

Click here for Scholarship Application


Please note: This application is a PDF file. You will need Adobe Acrobat Reader to view, and fill out the form using your computer keyboard.

Download Acrobat Reader
here free.



It gives us great pleasure to present this Scholarship to, Anthony Ronald Viverito.

We wish him much success in all his endeavors!